What a BIG week! Let's dissect it before Mercury goes into shadow at the end of it and starts making thoughts and communications more confusing.
From May 10th until May 13th: Mercury will be conjoining (powerful 0° angle) the North Node in Gemini and trining Saturn in Aquarius: these aspects bring a karmic expansion of quick ideas, communications and negotiations that have the potential to create meaningful and long-lasting change. These conversations and communications can bring greater stability and success that are meaningful to us, especially in the form of contracts. Gemini energy prefers to talk rather than write, so make sure to take notes of anything that you deem important for a long-term project.
This energy will be most beneficial for Gemini, Aquarius, Libra, Aries and Leo.
Virgo, Sagittarius and Pisces should think things through before communicating and avoid sending mixed signals/messages in their interactions with others.
On May 11th, at exactly 9 PM (CET), we have a powerful New Moon at 21°18′ of Taurus. A New Moon is formed when the Sun and the Moon are in conjunction (0° angle) and always marks a new beginning.  The Sun is our consciousness, and the Moon is our subconscious, emotions and intuition. When these 2 start a new cycle, the energy is very intense.
As it's happening in the fixed sign of Taurus, the main themes will be our material values and stability, our money, our self-worth, experiencing the world through our 5 senses, and our voice. The Moon is exalted in Taurus so that it will empower these areas. Althemore since numerologically, the degree in which it's happening (21° of Taurus) can be reduced to a "3", and this number is linked to Jupiter's expansive and abundant energy.
The New Moon chart configuration is called a Bowl. This means that the planets are concentrated in one part of the chart (see image below). This is very polarised energy giving way to highly emotional reactions during this time. Remember that the energy of a New Moon can be operational up to 2 days before and after the event itself. We are pushed towards finding some balance in our lives.
The first planet of this bowl figure is Mars (the planet of aggression, drive and action) in Cancer (its fall position) and the last planet is Pluto (the planet of transformation, hidden things, the collective subconscious) retrograde in Capricorn. So, we can end up with extremely emotional responses to triggering situations. Pluto in Capricorn is about control, so we should try our best to keep our calm and self-control during this New Moon.
The midpoint of the Bowl figure is at 22° of Aries, which is a very impulsive sign. This is the point of the highest tension.
The cardinal signs: Aries, Capricorn, Cancer and Libra, should do their best not to give in to emotional pressure and internal/external conflicts. Things can get blown out of proportion. 
The dispositor (ruling planet) of the New Moon is Venus in Gemini, the planet of harmony. So, if you feel excessively emotional and unable to channel or control your emotions, it is advised to do Venusian things such as any artistic endeavours, listening or playing music, dancing, talking to a friend, getting a makeover, or even shopping (keep it within reason though).
Nonetheless, we do have divine emotional support through a Minor Grand Trine (bissextile) among the New Moon, Neptune in Pisces and Pluto in Capricorn. Neptune is at the top of this astrological aspect. This gives way to compassionate and spiritual energy minimising this New Moon's intensity in conjunction with Black Moon Lilith (a mathematical point of raw passion and emotionality). The key here is to keep the faith that everything will turn alright.
There will also be a YOD (divine and karmic aspect) among Mars, Uranus, and the South Node in Sagittarius, ushering a karmic new perspective about belief systems, international affairs, religion, politics… The sextile between Mars in Cancer and Uranus in Taurus is inviting us to see money and material reality differently than what we have before. Cancer represents care and nurturing. This is a harmonious energy bringing opportunities to move into a more fortunate and abundant future. Feelings can be turned into driven actions. Also, understanding what we need to feel cared for. Cancer is also linked to our heritage, family, and roots. Mars energises us and gives us the passion for seeing these matters more expansively.
Jupiter is still at the anaretic degree (29° of Aquarius): point of culmination, conclusion or concentration. This is the energy of innovative ideas coming full circle. These new ideas may be related to how we understand our material reality of our existence, putting new goals for ourselves.
Taurus is very pragmatic and literal energy. Aquarius is also a fixed sign that holds ideas and contemplates them but also comes up with new ones. This is taking original thought and material pragmatism and combining them to start something new.
This New Moon supports Tauruses for starting up to 14 new projects. Scorpios should be more careful with their partners, whether in their business or private life. 
Leos and Aquariuses will be feeling more tense than usual. Pisces and Virgos will have the opportunity to expand on their material comfort.
On May 14th, Jupiter enters Pisces, its own traditional sign, and will remain there until July 28th. This is an important shift and brings forth a more compassionate, artistic and spiritual expansion. It helps us see meaning and purpose in our lives. There's a big emphasis on love and wisdom and raising the stakes and standards for what these words stand—spectacular energy for art and music. We'll see a bigger interest in these matters (maybe a hit song will be released).
Pisces, Cancer, Scorpio, Taurus and Capricorn will see their luck rise significantly. Whatever they start at this time will have a successful peak in winter 2022. 
Virgo and Gemini should not fall into the trap of gullibility. 
On May 15th, Mercury enters its shadow phase before it turns retrograde on May 30th. The shadow phase can often feel more intense than the retrograde itself. This is the pathway that Mercury is now beginning to walk and will retrace once it turns retrograde. 16° of Gemini is when it will turn direct again. With Mercury being in its own sign of Gemini, communications can get really confusing and slow. Problems with technology and means of transportation are a common occurrence as well.
This isn't a good time to launch new high-tech ideas, buy new high-tech items, or sign new contracts. It's a perfect energy to review any situation that falls under these topics. Mercury will retrograde from 24° to 16° Gemini. It will turn direct on June 23rd.
Gemini, Virgo, Pisces and Sagittarius should watch their communications the most at this time.
Libra, Aquarius, Leo and Aries can get the opportunity to clarify and settle old disagreements and review negotiations that didn't come to fruition previously. 
Also, on May 15th, Saturn stations before it will turn retrograde on May 23rd. If you need to settle any business situations, administrative and governmental documents, it'd be better to do it before this date. Everything will become slower and more difficult after this date.
Capricorns will feel this slow-down most strongly. Cancer, Aries and Libra may feel frustrated with projects being halted. However, they should pay attention to overreacting; they're advised to remain pragmatic and grounded. 
Wishing you an auspicious week!
Your astrologer – Theodora NightFall
New Moon in Taurus chart: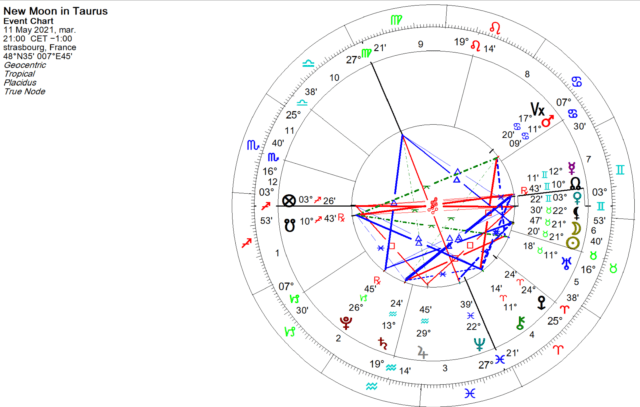 P.S. If you'd like to book an astrology consultation with me, go to my consultations page.
P.P.S. Want to dive deeper? Get on my email list by hitting the button down below to receive EXCLUSIVE content and offers directly in your inbox!
---
If you liked this free content, share it or make a donation